Je kent het vast. Ergens tussen Dijon en Lyon slibt de Autoroute Du Soleil even onherroepelijk dicht als de aorta van een frietjunk en je komt na uren aanschuiven tot de conclusie dat je achterwaarts hinkelend waarschijnlijk al aan de Costa del Sol was aangekomen. Bovendien is op je achterbank ondertussen wereldoorlog drie uitgebroken. De jongste zit tot aan zijn elleboog in de maag van de oudste in een poging om de laatste pistolet met preparé te recupereren en er is overvloedig bewijs dat de middelste het meende toen hij zei dat hij dringend moest plassen.
Een boek. Dat is de oplossing. Maar ze hebben alle Thea Beckmans en Jan Terlouws al ettelijke keren verslonden, ze kunnen Harry Potter uit het hoofd voordragen en ze rollen synchroon met de ogen als je weer met The Maze Runner of Divergent komt aandraven. Wat te doen?
Geen nood. Thisishowweread serveert hieronder vier jeugdige pageturners die gegarandeerd voor peis en vree op de achterbank zorgen. En o ja, ook hier geldt de gouden regel voor jeugdboeken: lees ze vooral lekker zelf.
Doem Duivelsz, Tatum Flynn
Je zal maar de jongste zoon van Lucifer wezen. Doem weet er alles van. Bovendien heeft hij voortdurend mot met zijn vader omdat hij nogal sukkelt met slecht zijn. Hij heeft nog nooit de leraar met een vlammenwerper bewerkt, bijvoorbeeld. En hij heeft een goed rapport. Oprecht gruwelijk. Na vruchteloze stages bij Zwartbaard en Dracula geeft Doem er de brui aan en loopt weg. Samen met Tommy, een eigengereid dood meisje. Op zijn tocht door een werkelijk prachtig uitgewerkte hel –die bibliotheek in de kelders van de Toren van Babel!- ontdekt Doem een geheim dat de grondvesten van hemel en de hel zal doen schudden. De seut van de helse basisschool wacht een duivelse missie. Zal hij slagen? Je leest het in dit prachtboek.
Doem Duivelsz – Tatum Flynn (De Fontein, vanaf 10 jaar)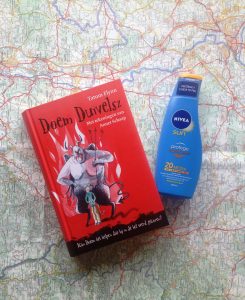 Een planeet in je hoofd, Sally Gardner
Dit is het verhaal van Standish Treadwell. Standish woont met zijn grootvader in een zone voor minderwaardige burgers. In het Moederland. Het is 1956 en de wereld ziet er anders uit dan we hem kennen. Een totalitaire regering deelt de lakens uit en roeit elk verzet meedogenloos uit. Ter meerdere glorie van de natie –en om de vijanden te imponeren- wil de regering een raket naar de maan sturen, iets waarvoor de hele natie in touw is. Wanneer de beste vriend van Standish, Hector, net zo spoorloos verdwijnt als de ouders van Standish destijds, gaat hij op zoek naar de waarheid. De waarheid ligt achter de grote muur in de achtertuin. Sally Gardner loodst je gezwind in honderd korte hoofdstukken naar het onthutsende einde van dit dystopische drama.
Een planeet in je hoofd – Sally Gardner (Moon, vanaf 12 jaar)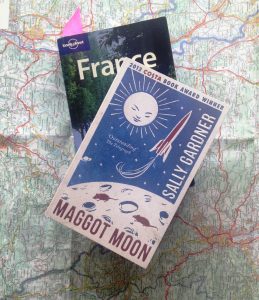 Het jongensboek, Conn en Hal Iggulden
Het Jongensboek heet in de oorspronkelijke versie The Dangerous Book for Boys. Je bent gewaarschuwd. Dit is het ultieme moderne jongensboek, waarin de broers Iggulden een poging wagen uw zoon naar buiten te lokken, weg van de tablet waarop hij net nog zo origineel mogelijk een Sim om zeep probeerde te helpen. In Groot-Brittanië heeft dit lees- en doeboek al een miljoen verkochte exemplaren op de teller staan. Het bulkt niet alleen van wetenschappelijke feiten die uitermate compatibel zijn met de prille mannengeest, maar het bevat ook instructies voor handigheidjes die onontbeerlijk zijn voor hun ontwikkeling tot man. Katapulten en periscopen maken, bijvoorbeeld. Pokeren en goochelen, ook. Dus moest je met ingewikkelde knopen aan een boom gebonden toekijken hoe zoonlief je valies met een zelfgemaakte luchtballon naar de stratosfeer stuurt: we hebben je net gewaarschuwd.
Het Jongensboek – Conn & Hal Iggulden (Harmonie, 9 – 99 jaar)
Gaten, Louis Sachar
Een klassieker. Neem een dikke, onhandige jongen uit een familie waarop een oude vloek zou rusten, waardoor alle nazaten door pech worden achtervolgd. Noem hem Stanley Yelnats en probeer zijn ouders geen proces aan te doen voor het palindroom. Stuur hem naar een strafkamp in de woestijn voor een misdaad die hij niet heeft begaan. Laat hem daar in de gloeiende hitte en belaagd door giftige hagedissen gaten graven, onder het toezicht van een mesjogge kampdirectrice en in het gezelschap van een handvol kleurrijke medegedetineerden. Kijk dan hoe Stanley zich een weg graaft naar een oud geheim. En hoe hij van een kluns een man wordt.
Gaten – Louis Sachar (Lemniscaat, vanaf 10 jaar)
Dit is een gastbijdrage van boekenknecht Kurt Van Gasse.