Hoera, een nieuwe blogjaar. Ons vierde alweer. We kijken uit naar een jaar vol gelezen en geschreven letteren. En we wensen jullie voor 2019 stapels boeken, veel vers leesvoer en nog meer heerlijke literatuur.
Een nieuw jaar, daar horen ook goede literaire voornemens bij. Hier bij Thisishowweread starten we het jaar met een lijstje boeken die we graag toevoegen aan onze steeds groeiende lijst boeken die we nog willen lezen.
Lezen voor een goed doel:
De honderd waterputten van Sagala, Ayesha Harruna Attah, Orlando
Ik heb een beetje vals gespeeld. Want ik kon niet tot 2019 wachten om in dit boek te beginnen en las het op de valreep uit in de laatste dagen van 2018. De honderd waterputten van Salaga voert je mee naar Afrika ten tijde van de slavenhandel in de 18e eeuw. De levensloop van twee vrouwen raakt in elkaar vervlochten. Dat van prinses Wurche, die als dochter van een machtig man middenin de politiek van de slavenhandel en de kolonisatie staat en dat van Aminah, die door handelaars wordt weggekaapt uit haar dorp en als slavin in dienst treed bij Wurche.
Het boek maakt deel uit van het Oxfam Novib project. Deze boekenreeks biedt een podium aan niet-Westerse schrijvers en probeert zo armoede en onrechtvaardigheid een stem te geven. Je kan een abonnement nemen en ontvangt dan 5x per jaar een roman uit het aanbod. Lezen voor een goed doel, leuk toch?
Om onze geschiedkundige honger te stillen:
Eeuwen van Duisternis, Catherine Nixey, Hollands Diep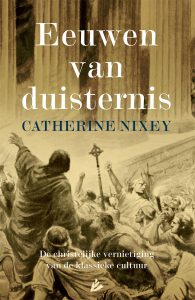 Catherine Nixey brengt in Eeuwen van duisternis een genuanceerd beeld van het vroege christendom, en de bijhorende vernielingen.
Palmyra, rond het jaar 385 n. Chr. Bebaarde fanatici, gekleed in zwarte mantels en gewapend met weinig meer dan stenen, ijzeren staven en de rotsvaste overtuiging dat zij het gelijk aan hun kant hadden, dringen de tempel binnen. Van het manshoge beeld van de goddin Athena slaan ze het hoofd af. Het beeld valt op de grond, armen en benen worden eraf gehakt, de torso laten ze liggen. De daders zijn christelijke beeldenstormers die kwaadaardige afgoden willen vernietigen. "Deze demonen zijn door onze goede heiland vertrapt", zingen ze.
Geen heilige boontjes, die eerste christenen. Zo lezen we dat slechts 0,5 tot 1% van de klassieke literatuur de tand des tijds overleefd heeft. Monniken hadden namelijk de gewoonte om oude Latijnse of Griekse teksten van het perkament te schrapen om er Bijbelse teksten over te schrijven. Of hoe het Christendom voet aan de grond kreeg door de klassieke cultuur met geweld de grond in te boren.
Om uit te pakken op de nieuwjaarsdrink/paasbrunch/communiefeest:
Freakonomics en Super Freakonomics, Steven D. Levitt en Stephen J. Dubner, De Bezige Bij
Zet een onconventionele econoom en een in-alles-geïnteresseerde journalist samen en je hebt het team achter Freakonomics bij elkaar. Ze stellen de meest bizarre vragen: hoe zie je dat een leerkracht vals speelt? Hoe worden politieke campagnes gefinancierd? Hoe werkt de Ku Klux Klan? Vragen die je je nooit eerder gesteld hebt, maar waarop je van Levitt en Dubner een antwoord vol data, analyses en humor krijgt.
Het boek werd in 35 talen vertaald en verkocht 4 miljoen exemplaren wereldwijd. Een vervolg op het succes kon niet uitblijven. En ja hoor, Superfreakonomics stelt nog meer vragen waar je nooit eerder over nadacht: zijn autostoelen echt nodig? Wassen dokters hun handen wel? Hoe vang je een terrorist? Is TV verantwoordelijk voor stijgende msidaadcijfers?
En als je echt niet genoeg krijgt van het duo, zijn er nog titels te krijgen: Think like a freak (reeds vertaald)  en When to rob a bank.
Met genoeg freakonomics weetjes op zak kan je elk feestje aan dit jaar.
En, wat zijn jouw literaire voornemens?
P.s.: volgende week trakteren we je op een lijstje met literaire voornemens voor kinderen!