Gisteren heb ik heel erg genoten van de eerste aflevering van 'België scherpgesteld' – een vijfdelige documentaire over Belgische fotografie op canvas.be
Gisteren was ik ook te lui om een blogpost te schrijven. Mmm, tel één en één bij elkaar op en daar is de aanleiding om mijn interview met Jimmy Kets (in de documentaire vanaf 35:00) van onder het stof te halen!
Er staan twee boeken van Jimmy Kets in mijn fotobibliotheek: The Graves are nice this time of year (Uitgeverij Kannibaal), over de sporen die de oorlog van 1914-1918 naliet in het Vlaamse landschap; en Niet Miss (Davidsfonds), een scheve blik op schoonheidswedstrijden allerhande, zeg maar: van Aardbeien Koningin tot Miss Zwevezele. Hoe meer ik in die boeken blader, hoe meer ik het gevoel krijg dat mister Kets een wit voetje heeft bij Het Toeval. Voor zijn lens lijkt er altijd iets spannends te gebeuren. Zomaar, vanzelf. In de wereld van Jimmy Kets nemen de broodjes préparé voor de juryleden van Miss Global Belgium spontaan de opstelling over van de kandidaat-missen. En staan er ergens op een kerkhof drie bloemenkransen te blinken? Dan snellen er geheid drie wielertoeristen toe om het plaatje af te maken.
Is zoveel 'gelukkig toeval' een kwestie van techniek, een scherp oog, een subtiele regisseurshand of gewoon boerenchance? In plaats van er in mijn zetel over te speculeren, besluit ik de vraag te stellen aan Jimmy Kets himself.
Dit is mijn favoriete beeld uit het boek Niet Miss. Weet je nog waarom je het hebt gemaakt?
Jimmy Kets: "Ik ben gefascineerd door de pogingen van mensen om iets moois te maken, en de grenzen waarop dat idealisme onvermijdelijk botst. Ouders nemen hun kinderen mee naar een pretpark voor een leuke dag met het gezin, en 's avonds staan de kinderen doodmoe en met een buik vol suiker te huilen op de parking – dat fenomeen. Ik vind de wereld van de regionale missverkiezingen dus een boeiende biotoop. Voor mij begon dit beeld met de keurige rij planten naast het podium. Je weet meteen dat de plaatselijke bloemenwinkel de verkiezing sponsort en mee 'cachet' wil geven aan de turnzaal waar het evenement doorgaat – kijk maar naar de lijnen op de grond. De foto toont het podium van de zijkant, waardoor je zowel ziet wat het publiek te zien krijgt als wat daarachter schuilgaat. Dat omgevallen karretje onder het zwarte podiumdoek, bijvoorbeeld. Zoiets trekt mijn aandacht."
Is het louter toeval dat de spots op de kandidate dezelfde kleur hebben als de turnlijnen op de grond?
Jimmy Kets: "De kleuren zijn wat mij betreft ondergeschikt aan de compositie. Waarschijnlijk heb ik vanuit dat zijdelingse standpunt, met die planten erbij wel vijftig beelden geschoten. Achteraf kies ik dan op gevoel de meest geslaagde foto. Op dat moment kan zo'n kleurherhaling wel meespelen."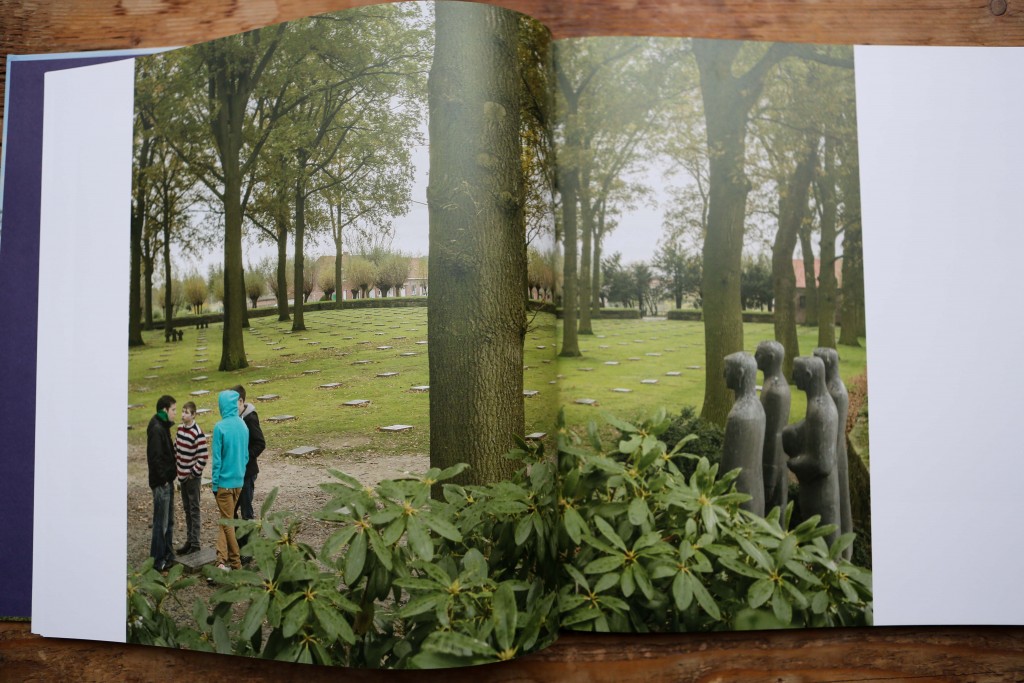 Op deze foto uit The Graves are nice spiegelt het groepje jongens heel mooi het vierkoppige standbeeld. Gebeurt zoiets gewoon of vraag je dan toch 'Hey, jongens…'?
Jimmy Kets: "Niet Miss was een persoonlijke reeks. The graves are nice this time of year heb ik gemaakt in opdracht. Toch is mijn aanpak van beide projecten vergelijkbaar. Ik had geen zin om foto's te maken van symmetrische gravenrijen bij zonsop- of zonsondergang. Dat is al honderd keer gedaan, waarom het nog eens herhalen? Ook hier zocht ik bij elke foto naar de manier waarop het hier en nu binnenbreekt in decors die de ambitie hebben om het verleden perfect in ere te houden. Deze foto is gemaakt op het Duitse kerkhof in Langemark vanop een heuveltje. Voor deze reeks heb ik vaak vanuit de hoogte gefotografeerd; ik had meestal m'n eigen ladder bij. Het enige wat me op dat kerkhof interesseerde, waren die standbeelden. Het kader van mijn foto stond dus vrij snel vast. Daarna was het afwachten en geduld hebben en in de kou staan hopen dat er iets spannends dat kader zou binnenlopen. In Langemark komen vrij veel schoolkinderen op bezoek. De vier jongens maakten deel uit van een grote groep die in eerste instantie op de achtergrond opdook en zich stilletjes aan richting standbeeld bewoog. De groep brokkelde als het ware af, meer en meer studenten slenterden weg tot plots alleen die vier jongens in mijn beeldkader overbleven.
De symmetrie is zo mooi dat ik zelfs getwijfeld heb of ik het beeld zou gebruiken. Het is bijna te simpel, een postkaart gimmick.
Maar uiteindelijk werkt het wel. Die jongens konden mij zien staan, ja. Ik ben geen fotograaf die zich verstopt of stiekem fotografeert. Ook mijn gebruik van sterk flitslicht zorgt ervoor dat de mensen die ik portretteer me meestal hebben gezien. Toch ben ik geen socializer.  Zelfs bij Niet Miss praatte ik amper met de kandidates. Ik ervaar dat ik meer overzicht heb en sneller op situaties kan inspelen wanneer ik afstand houd van mijn onderwerp.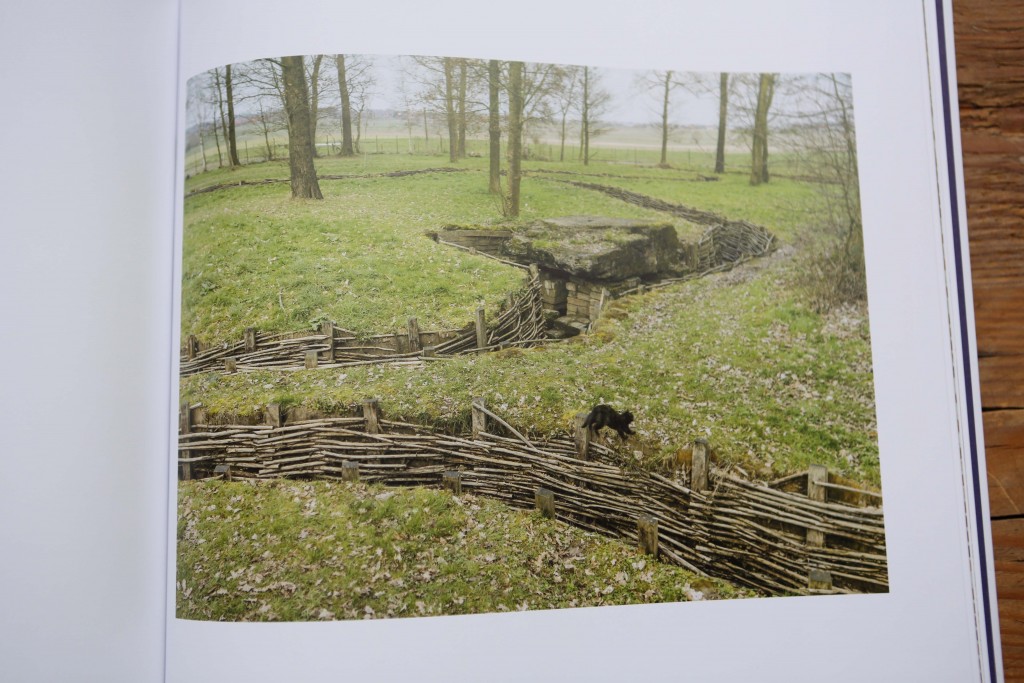 Die vliegende kat, is dat een gelijkaardig verhaal?
Jimmy Kets: "Je moet weten dat The Graves are nice this time of year een ongelofelijk tijdsintensief project was. Er staan zo'n 75 foto's in het boek, maar ik heb daar minstens 40 dagen aan gewerkt. Het toeval laat zich alleen zien als je er lang genoeg op wacht. En sommige dagen gebeurt er niets. Ik vreesde al dat het zo'n dag zou worden, toen die kat opdook. Ik heb haar wel dertig minuten gevolgd met mijn statief en misschien honderd foto's genomen. Tot ze uiteindelijk sprong. Op dat moment wist ik meteen: 'Ik heb een foto!' Je kunt zeggen dat zoiets 'gelukkig toeval' is, maar ik zorg tenminste dat ik paraat ben om het toeval te vatten. Als ik in fotografiemodus sta en op pad ben, zorg ik er altijd voor dat de instellingen van mijn fototoestel kloppen, zodat ik maar moet richten en klikken om het 'toeval' te kunnen vastleggen.
De kloof tussen verheven menselijke ambities en de banale realiteit is een fascinerende invalshoek. Maar vinden de mensen die je portretteert dat ook? Zijn er veel miss-kandidates boos op jou?
Jimmy Kets: "Een paar meisjes zijn naar de opening van de tentoonstelling gekomen en konden er best mee lachen. Maar ik heb ook boze mailtjes gekregen, dat klopt. Kijk, zodra je op een podium gaat staan moet je de controle op de beeldvorming rond je persoon kunnen loslaten. Ik geef mijn subjectieve visie op een gebeuren. Ik grijp niet in en ik regisseer niets. Mensen doen wat ze doen en ik breng dat in beeld. Op mijn manier – dus als je typische, afgelikte glamourfoto's verwacht, zal mijn werk ontgoochelen. Maar ik heb het recht om vast te leggen wat mij interesseert. Ik heb ooit drie dagen de schuttersgilde van Brugge gevolgd als fotograaf. Eén van die dagen was het feest en ontaardde alles in één zatte bende. Zoiets registreer ik dan, maar daar is niet iedereen blij mee. Op de opening hebben die Bruggelingen me bijna gelyncht. Op zo'n moment denk ik: 'Die foto's zijn een confrontatie met jezelf. Don't shoot the messenger als je daar niet van houdt.'
Op www.jimmykets.be zijn limited editions te koop van beelden uit beide reeksen.