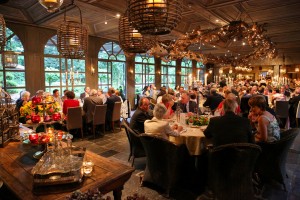 Het is altijd unheimlich wanneer de literatuur en het leven sterk op elkaar lijken.
Begin september waren Joris en ik uitgenodigd op het huwelijk van zijn neef. Het feest ging door in Kuurne en omdat we geen zin hadden om 's nachts de 150 kilometer naar Keerbergen terug te rijden, boekten we een hotel in de buurt. Een weekend voor onszelf. Dat kon niet lang genoeg duren. Die zaterdag dropten we onze dochters zo vroeg mogelijk bij de oma, we deden een early check-in in de hotelkamer en genoten van alles waar jonge ouders te weinig toe komen. Zoals lezen.
Ik had de verhalenbundel Unaccustomed Earth van Jhumpa Lahiri bij (Nederlandse vertaling bij Meulenhof, Vreemd Land). Mijn verwachtingen waren hooggespannen. Lahiri blies mij in 1999 al omver met het openingsverhaal A Temporary Matter van haar debuutbundel (Meulenhof, Een Tijdelijk Ongemak) waarin ze gevoelig en genuanceerd de afstand beschrijft tussen een koppel dat net hun baby is verloren. Sindsdien heb ik de schrijfster nog nooit op een zwakke bladzijde kunnen betrappen. Lahiri schrijft klassiek, psychologisch proza maar haar personages worstelen met hedendaagse problemen zoals eenzaamheid of de generatiekloof in migrantenfamilies.
De eerste twee verhalen van Unaccustomed Earth had ik eerder die week al gelezen, thuis. Nu verheugde ik me erop om ongestoord in de rest van het boek te duiken, ver weg van de twee meisjes die mijn lectuur doorgaans onderbreken met de vraag om hun roze verkleedjurken dicht te ritsen. Daar op die hotelkamer, in aanloop naar dat huwelijksfeest, begon ik aan Lahiri's derde verhaal. Al snel bekroop mij een unheimlich gevoel. Want A Choice of Accomodations gaat over een koppel dat zonder hun twee dochters… incheckt in een hotelkamer… in aanloop naar een huwelijksfeest.
Gelukkig voor Joris en mij hield de gelijkenis tussen de personages van Lahiri's verhaal en ons daarmee grotendeels op. Ik had geen feestjurk meegebracht met een gat erin – om maar iets te zeggen. Joris zou die avond niet verdwijnen – ook wel zo gezellig. En – wellicht nog het grootste verschil – ons huwelijk maakt geen stille crisis door. Toch zaten er naar mijn aanvoelen opvallend herkenbare elementen in A Choice of Accomodations. De ergernis van hoofdpersoon Amit over de tweeslachtige regels van small talk, bijvoorbeeld.
Amit belandt tijdens het huwelijksdiner aan tafel bij een vrouw die zich net  heeft verloofd. Wanneer ze hoort dat Amit twee kinderen heeft, legt ze hem ongegeneerd op de rooster. Had het lang geduurd voor hij en Megan zwanger werden? Kwam er ooit nog een derde baby? Was de stap van één naar twee echt zo groot als wordt beweerd? Op die laatste vraag probeert Amit oprecht te antwoorden: "Om eerlijk te zijn is ons huwelijk sinds de geboorte van onze tweede zo'n beetje" – hij stopte even, op zoek naar het juiste woord – "verdwenen." Waarna de vrouw abrupt en zelfs beledigd het gesprek afbreekt. Wat een ongepaste opmerking om op een huwelijk te maken. En wat een tactloze opmerking tegen iemand die op het punt staat te trouwen!
Het is niet dé, maar 'een' vraag die A Choice of Accomodations stelt. Leven we in een samenleving waar we elkaar alles mogen vragen, maar waar slechts één set oppervlakkige antwoorden ("Oh, op vlak van kinderen is één plus één echt drie!) sociaal aanvaardbaar is?
Benieuwd naar jullie reacties!  Ooit een awkward moment meegemaakt na een eerlijk statement, waardoor je dacht 'Volgende keer maak ik gewoon de lege opmerking die iedereen wil horen!'?
PS: Ter ere van Valentijn, was dit er eentje uit de oude doos. En voor wie nog een locatie voor z'n Valentine's dinner zoekt…