Ik blijf nog even bij de dunne boekjes en de dode Russen, als het mag. Tijdens onze recente verhuis kwam er immers nog een tweedehands boekje bovendrijven – uit De Slegte deze keer, gekocht aan 3,95 euro. Het heeft als titel De Russen in mijn kast en het bevat elf bijdragen van schrijvers, acteurs of vertalers die verslingerd zijn aan De Russische Bibliotheek. Ik heb een klik met de auteurs van dat boekje, want in mijn boekenkast prijken veertien delen (voor wie het interesseert: Poesjkin, Lermontow, Ljeskow, Saltykow, Boelgakov, één deel Tsjechow en de volledige, acht-delige Tolstoj) van de monumentale reeks van – intussen 51-  Russische meesterwerken, uitgegeven door van Oorschot.
Het boeit me altijd: ontdekken welke Dode Rus andere lezers hoog in het vaandel dragen (stem gerust op jouw favoriet, hieronder bij de reacties). De Russen in mijn kast maakt alvast één ding duidelijk.
Tsjechow blijft voor velen the shit.
De Russen in mijn kast is een leuk, dun boekje met de nodige roddel en achterklap over de medewerkers en de ontstaansgeschiedenis van de beroemde reeks. Vooral de bijdrage van Charles Timmer, hoofdredacteur van de hele Russische Bibliotheek en vertaler van zeven delen (ofwel 6513 gedrukte bladzijden, hij rekende het zelf even na), trekt gretig die kaart. Timmer vertelt over verloren koffers met woordenboeken (we schrijven de jaren 1950…); pijnlijke vertaalfouten genre Het personeel deed alles wat zij verlangde waar er staat Het personeel deed alles wat het zelf wilde; en paniek wanneer een deel 'slechts' 560 bladzijden bleek te hebben, terwijl men de boekhandelaren een klepper van 700 à 800 bladzijden had beloofd.
Karel van het Reve (ja hoor, broer van…) schreef ook een fijn stuk. Over Russen lezen in Duitse vertaling en over de bibliotheekpolitiek tijden W.O.II. Toen verbood de bezetter dat Nederlandse lezers het boek Goethe und Tolstoï  van Thomas Mann zouden ontlenen. Maar wie een deeltje Lenin in het Russisch vroeg, kon dat zo mee naar huis krijgen. #WTF
Kleine zijsprong: Van het Reve schreef in 1985 een Geschiedenis van de Russische literatuur (ook bij Van Oorschot) die ik iedereen kan aanbevelen. Zijn inleiding is een geweldig staaltje zelfrelativering en een verkenning de vraag: Waarom boeken lezen over literatuur als je die literatuur zelf kunt lezen? "Als wat Tolstoj schrijf verklaard moet worden, als wat Tolstoj schrijft iets betekent dat door Jansen moet worden uitgelegd, waarom heeft Tolstoj dan al die moeite gedaan? Had hij niet veel beter meteen kunnen zeggen wat hij bedoelde?
Hoe vreemd, dat er blijkbaar iets is, wat Tolstoj met al zijn talent, niet over heeft kunnen brengen, en dat Jansen dat wel kan. Zou Jansen dan eigenlijk niet veel beroemder en veel meer gelezen moeten zijn dan Tolstoj? Waarom heeft Tolstoj die ontzaglijke omweg genomen, twee dikke delen, om iets anders mee te delen dan hij bedoelde? Waarom prefereren al die miljoenen Tolstoj boven Jansen?"
Ik heb in Leuven les gekregen van meer dan één 'Jansen' die literatuurwetenschap een veel hogere kunst vond dan boeken schrijven. Dan dacht ik altijd even aan Karel van het Reve en aan de voorkeur van miljoenen – onder wie ondergetekende – voor Tolstoj. Maar ik dwaal af.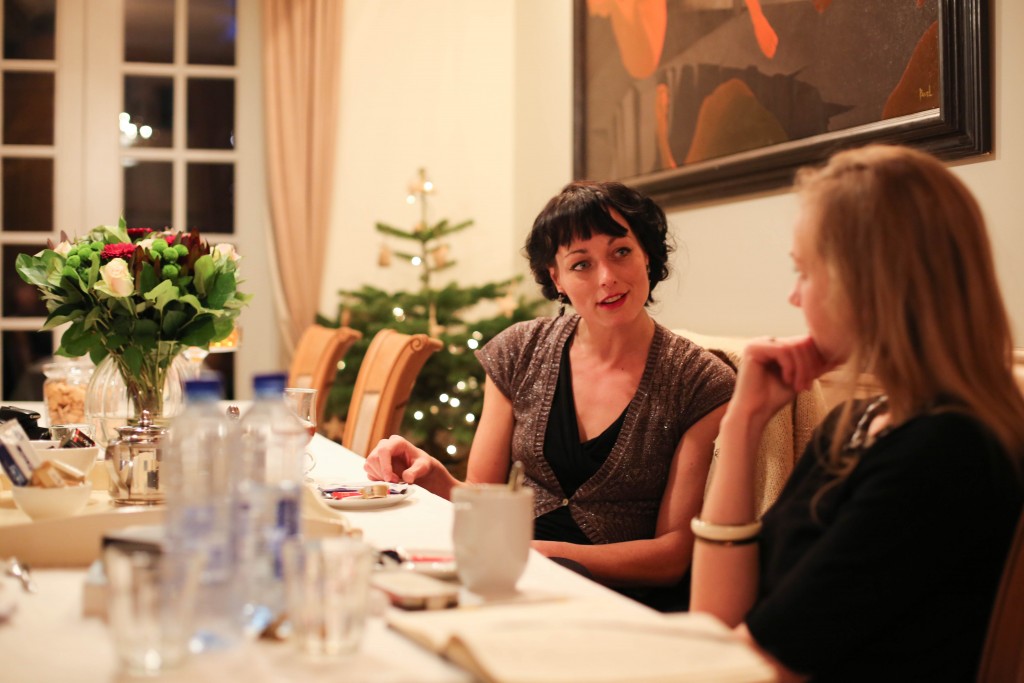 Margriet de Moor maakte van haar bijdrage aan De Russen in mijn kast een kort verhaal. Onrust en kalmte beschrijft de uitwerking die het lezen van Oorlog en Vrede heeft op twee tienermeisjes. Een heel geslaagde schets, die ervoor zorgde dat de Moors roman uit 2010 De schilder en het meisje (De Bezige Bij), over een publieke wurging in het Amsterdam van 1664, meteen 200 plaatsen steeg op mijn to read lijst.
Onlangs verscheen trouwens de biografie van Geert van Oorschot (1909-1987) door Arjen Fortuin (bij uitgeverij Van Oorschot). Vrijdag las ik de recensie in De Standaard. Blijkbaar is van Oorschot naast de-man-met-het-plan-voor-De-Russische-Bibliotheek, ook de man die ervoor zorgde dat Annie M.G. Schmidt respect kreeg in literaire kringen. Twee keer goed, Geert. Twee keer goed.
PS: Op de foto's bij dit stuk staat Lara Taveirne, de Vlaamse schrijfster die door haar ouders vernoemd werd naar Lara Antipova uit dokter Zjivago. Met Lara bezochten we eind november een huis van (boeken)liefde. Het volledige interview lees je hier op woensdag 17 februari en verklapt o.a. bij welk romanpersonage de schrijfster een naam vond voor hààr dochter.