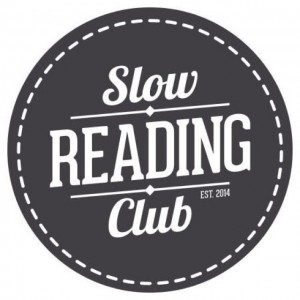 Een gastpost van boekenknecht Kurt Van Gasse…
Mijn plank met te lezen boeken heeft er nog nooit zo leeg en miezerig uitgezien. En dat is een probleem zo prangend als een sumoworstelaar in een little black dress. Ik wil en zal niet op de Slow Reading sessie in Barboek verschijnen zonder een dijk van een boek onder de arm.
De boekentips van de boekenmeisjes brengen deze keer geen soelaas. Evelines aanrader The night circus heeft me nog maar net twee nachten gekost en ik heb echt geen zin om alweer op mijn wallen te trappen. Eerst wat bijslapen voor ik mijn tanden in een nieuwe klepper zet.
Iets herlezen, dan? Wie zei er ook weer dat de echte klassiekers die boeken zijn die je blijft herlezen? Misschien mijn geliefde Three men in a boat van Jerome K Jerome, die als een Victoriaanse Bill Bryson de Thames opvoer en wiens relaas na 140 jaar nog steeds even hilarisch is? Nee, wacht. Te groot risico op uit het pand geschopt te worden door de onbedwingbare lachsalvo's. Dan maar een dosis grofgebekte volzinnen van de meest ergerlijke, vieze hufter uit de Amerikaanse literatuur, in A confederacy of dunces van John Kennedy Toole? Nah. Te controversieel. Het wonderlijke Stad van de dromende boeken, niet alleen een jeugdboek van Walter Moers, maar ook een intense liefdesverklaring aan boeken? Te hoog Tolkien-gehalte.
Help.
Terug naar de ongelezen plank. Tussen Joost Vandecasteele's Vel –te hormonaal voor vandaag- en Bernlefs Hersenschimmen –niet in de stemming- vind ik The first bad man, van Miranda July. Ik voel me aangesproken. Het verdient een kans. Het mag mee naar Leuven.
Als Barboek bij daglicht al gezellig is, dan is het er 's avonds ronduit idyllisch. Met knusse hoeken her en der tussen de boeken is dit de perfecte plaats voor een eerste Slow Reading sessie. Ik bedwing een impulsaankoop –sorry Grossmith brothers, volgende keer- en nestel me ergens strategisch om ongestoord boeken te spotten. Ondertussen druppelen de deelnemers binnen. Aan de grote tafel verschijnt naast een Murakami ook Spaar de spotvogel van Harper Lee –gelukkig niet het afgrijselijke Ga heen, zet een wachter – en zowaar de laatste editie van Das Mag. Aan een tafeltje ginds wordt Nick Hornby klaar gelegd en op de grote sofa wordt een e-reader bovengehaald. Initiatiefneemster Lotte De Snijder komt iedereen persoonlijk welkom heten, een extra touch die iedereen zich onmiddellijk thuis doet voelen.
Acht uur. De achtergrondmuziek gaat uit, de gesprekken worden afgebroken.
Het wordt stil. Heus stil. Dit is niet zomaar de afwezigheid van lawaai, dit is de zinderende stilte van samen zwijgen.
Je hoort enkel het omslaan van de pagina's. En het gefluister van een verre ijskast, iets wat me terugvoert naar die tijden toen meneer weer eens veel te laat was beginnen studeren en aan de nachtelijke keukentafel probeerde de schade te beperken.
Ik word diep in mijn boek gezogen en verlaat Barboek in het gezelschap van Cheryl, het hoofdpersonage van The first bad man en een mens zo knetter als eens fors wildplassen in een hoogspanningscabine. Ze heeft opvattingen over hygiëne waar een zwijn misselijk van zou worden en ze gaat elke dag ritueel op de vuist met haar jonge, mooie kamergenote. En dat is nog maar het begin.
Een ongelofelijke zeventig bladzijden later –ik ga je snelheidsrecord nog breken, Katrien – hoor ik een verre kerkklok langzaam negen uur slaan. Het zou zo een scène uit een magisch-realistisch verhaal kunnen zijn. En inderdaad ja, zo stil is het nog steeds. Rondom mij komen mensen in beweging, en ik weet dat ze even moeilijk als ik terug komen bovendrijven in de werkelijkheid. Dit was intens. Mijn eerste poging om op te staan, levert me bijna een versplinterde kinnebak op wanneer mijn bloedeloze benen flagrant dienst weigeren. Het is tijdens Slow Reading aangewezen om af en toe lichtjes te bewegen, ondanks de diepe concentratie, want naar verluid groeien afgestorven ledematen maar moeizaam weer aan. Gelukkig kan ik nog net een rek kinderboeken vastgrijpen –Tiny redt onbeholpen man– en kan ik Barboek verlaten zonder een enorme deuk in mijn street credibility. En in de vloer.
De conclusie van de boekenknecht? Doen! Dit is een prachtig medicijn tegen een acuut verkorte concentratiespan door het genadeloze spervuur van de sociale media. Je hoeft geen yogamat mee te nemen of collectief Tibetaanse neusgezangen aan te heffen, al wat je nodig hebt is een boek. En laat ons daar nu net pap van lusten.
Kurt Van Gasse verschaft in zijn bovenkamer gratis onderdak aan een ingenieur, een manager en een rusteloze lettervreter. Voorlopig kunnen ze het met elkaar vinden en wordt er maar zelden met het mentale servies gegooid. Hij leest verontrustend veel en drijft zijn fiets aan met acute zwerflust. Zijn schrijfsessies worden gedoogd door de Antwerpse horeca. Onlangs nog crashte hij de boekvoorstelling van Philippe Diepvents.
PS: Hou voor een volgende sessie in Leuven alvast de pagina van Slow Reading Leuven in de gaten!