Dat romans ons dieper kunnen raken dan het meest objectieve non-fictie boek, dat wisten we al. En ook de Mexicaanse Valeria Luiselli beseft dat een verhaal over jonge vluchtelingen, onderweg van Mexico naar de VS, meer kan beroeren dan honderd krantenartikels vol cijfers en feiten. Vandaar de inspiratie voor Archief van verloren kinderen. Maar tijdens het jarenlange schrijfproces werd de kwestie van de Mexicaanse kinderen op een bepaald moment zo urgent dat Luiselli niet meer kon wachten om haar verontwaardiging wereldkundig te maken. Die woede resulteerde in 2017 in het essayistische Vertel me het einde, gebaseerd op haar eigen ervaringen als vrijwillige tolk voor onbegeleide en minderjarige immigranten in New York. En naar eigen zeggen werkte Luiselli's politieke essay ook louterend voor haar roman. Die is opnieuw geëngageerd, maar het verhaal is subtiel en intiem, zonder zware politieke statements. Alsof ze die ballast er via het essay heeft uitgeschreven.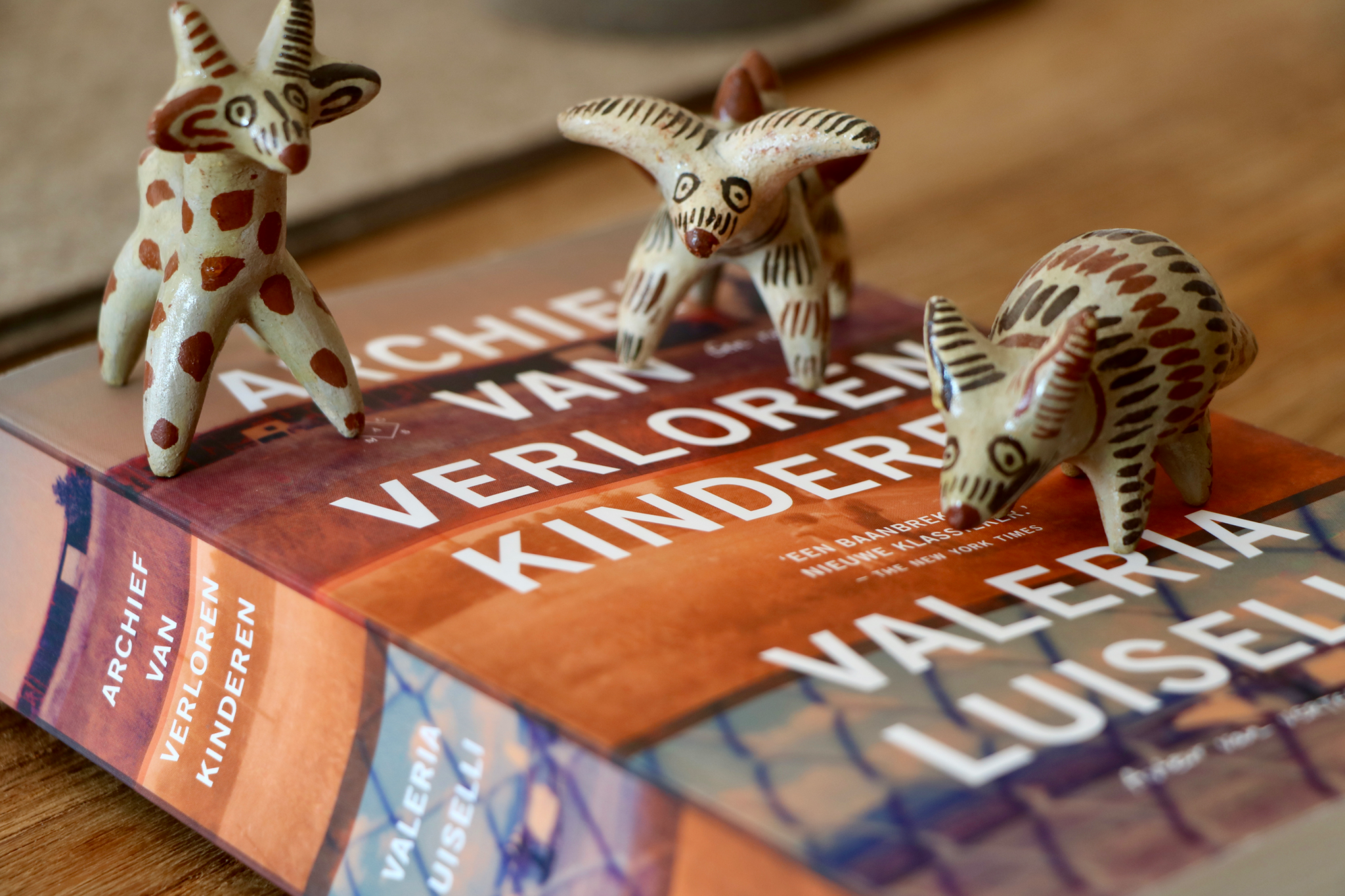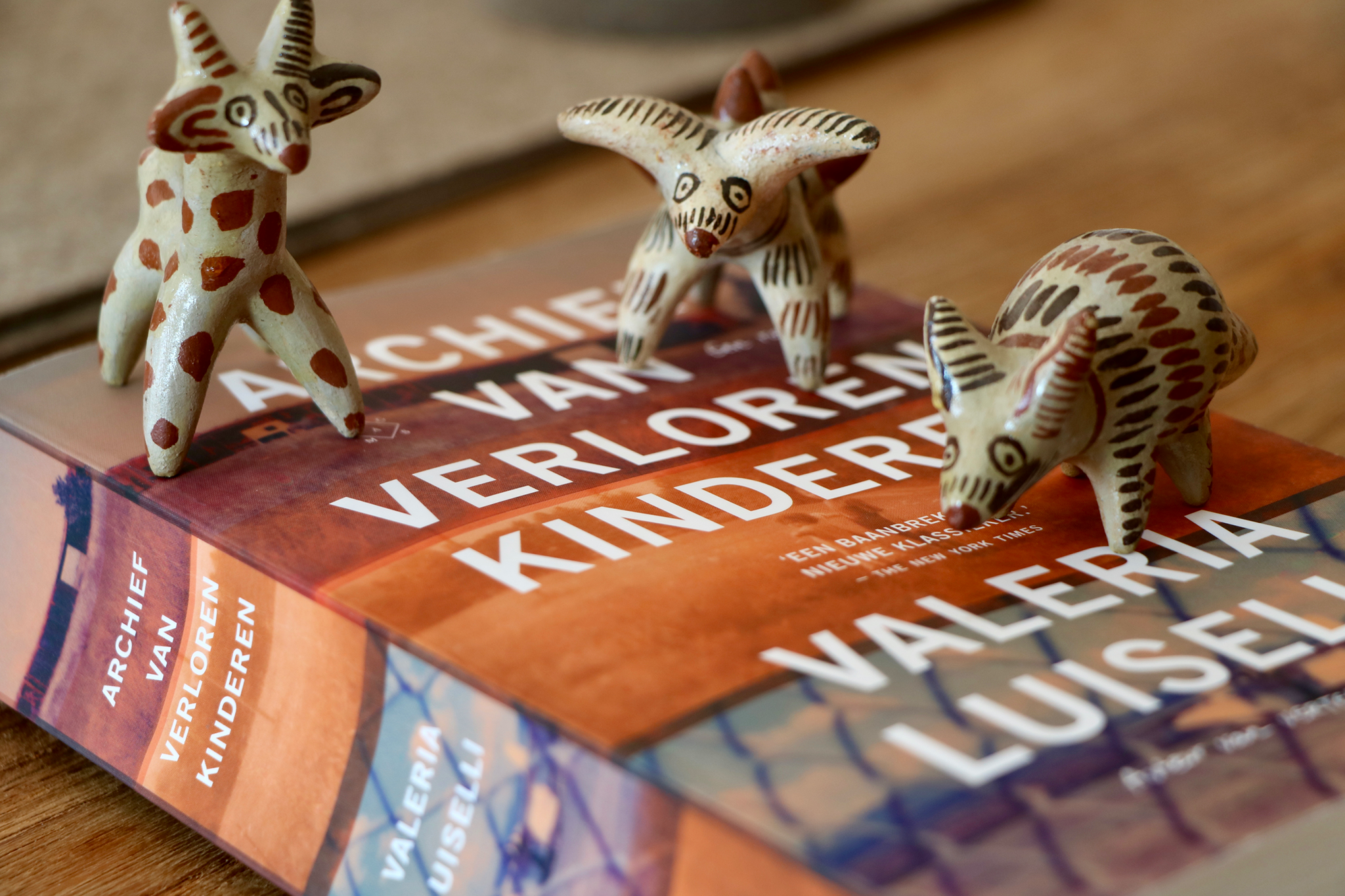 In Archief van verloren kinderen volgen we Luiselli's alter ego op road trip van New York naar de grens met Mexico. Daar wil ze geluidsopnames maken om over de vluchtelingenkinderen te vertellen. Naast haar in de wagen zit haar zwijgzame man, ook onderweg naar het zuiden, maar met een andere missie: de stemmen van de Apachen opnieuw laten weerklinken. Op de achterbank leven haar vijfjarige dochter en zijn zoon van elf in een fantasiewereld waarin zij de 'verloren' kinderen zijn, net als de vermiste dochters van hun Mexicaanse buurvrouw in New York. De alledaagse soundscape van het gezin resoneert met de archiefdozen in de koffer vol researchmateriaal over Apache leiders Cochise en Geronimo en wordt regelmatig onderbroken door het audioboek van Lord of the flies, door David Bowies Space Oddity en natuurlijk ook door de prangende nieuwsbulletins over Mexicaanse kinderen die de omgekeerde reis maken.
Luiselli schreef deze roman na haar breuk met de schrijver Alvaro Enrigue. Ook in Archief van verloren kinderen drijft het koppel uit elkaar, terwijl ze fysiek nooit dichter op elkaars huid zaten. Maar terwijl het hoofdpersonage wel vrede lijkt te hebben met de scheiding waar deze roman op afstevent, is het uiteenvallen van het gezin wel een issue. Hoe moet het immers verder met de geschiedenis van hun vieren? Op metaniveau (ok, dit klinkt even saai) is dat immers het thema van Archief van verloren kinderen: het vastleggen van verhalen om betekenis te creëren en feiten te redden van de vergetelheid. Gelukkig heeft de stiefzoon een antwoord klaar. Op het einde van het boek krijgt hij het woord. Hij vertelt nadrukkelijk en dwingend voor het meisje dat te jong is om herinneringen te bewaren. Hij heeft immers stilzwijgend begrepen dat dit hun laatste reis samen is:
"Ik moest dus bedenken hoe ik jou kon helpen herinneren, ook al was het alleen maar via dingen die ik voor jou, voor de toekomst, aan het vastleggen was."
Wat een innemend en geloofwaardig personage zet Luiselli neer met die zoon! Zijn slimme en onbevangen blik en de manier waarop hij zijn stiefmoeder relativeert, geeft echt een extra dimensie aan het verhaal. En mag het misschien ook even gezegd worden wat een pakkende roman over ouderschap dit is. Hoewel de moeder "nooit met een picknickkleed is gaan picknicken, of met stoeltjes naar het strand is gegaan" maakt ze er een punt van (of is het haar onbeholpenheid?) met haar kinderen te spreken zonder intellectueel te vereenvoudigen. Dit levert hilarische scènes op, zoals wanneer ze de werking van de polaroidcamera uitlegt aan de zoon.
"Wat moet ik doen? vraagt hij.

Ik zeg tegen hem – in een poging een taal die ik heel goed ken te vertalen in een taal waar ik nauwelijks verstand van heb – dat hij fotograferen moet zien als het vastleggen van het geluid van een echo. Maar in werkelijkheid is het moeilijk om parallellen te trekken tussen sonografie en fotofrafie. Een camera kan in één beeld een heel deel van een landschap vastleggen, maar een microfoon, zelfs een met een parabolische schotel, kan alleen fragmenten en details samplen.

Wat ik bedoel, mam, is op welk knopje ik moet drukken, en wanneer?"
Hoewel Archief van verloren kinderen dus ook een alledaags en persoonlijk relaas is, blijft deze road novel, langs mistroostige motels en Amerikaanse diners, ook altijd een politieke spiegelroman. Via het gezin sijpelen de verhalen door van anonieme kinderen die omkomen van honger en dorst in de woestijn, die op La Bestia springen zonder te weten of er een toekomst is aan de andere kant, of die op een retourvlucht belanden die alles wegheeft van een deportatie. Zou het mij ook kunnen overkomen? Zou ik kunnen overleven? Het is een vraag die de jongen zich letterlijk stelt, wat uitmondt in een spannende climax waarin alle verhaallijnen even samenkomen, fantasie en realiteit versmelten en hij en zijn zusje zelf even 'verloren kinderen' worden.
Of je van sociale ellende kunst mag maken, vraagt de moeder zich nog af. Please do so, Valeria… In jouw geval is het geen kwestie van mogen maar moeten.
PS. "Ik hou geen dagboek bij. Mijn dagboeken bestaan uit de zinnen die ik onderstreep in boeken. Ik zou nooit iemand een boek uitlenen dat ik al heb gelezen." Dit citaat deed me wel heel erg denken aan een mijmering van Barbara.